GRANDTRONICS Inc. is developing the new innovative LED TUBE T8 higher brilliance without
dazzling glaring light to
the eyes by using our special optic-cover compare with old type dazzling light T8 tube .the advantage is that the tubes are working extremely in lower power consumption under 9W for the (600mm) 2ft tube, and under 18W power consumption for the1200mm( 4ft )Tube.
it can service at 110V AC or 220V AC via a GU13 socket.The LED T8 Tubes are designed to replace the equivalent Cathode Fluorescent tubes (CFT) available in markets today. Using lower power compared with traditional CFT tube, the T8 LED has the same structure and style of traditional CFT tubes but plays
a brighter more harmonious natural light per watt, with less heat radiation and few of the pitfalls faced by traditional CFT tubes.
There are no toxic gasses exist in it and the tubes are much more robust design. The LED T8 Tubes can be used for routine daylighting applications.
The tube was designed to fit into standard G13 socket lighting fixtures, and thus replace traditional tubes without any inconvenience to the user.
Why LED bulb are better?
the LED bulb offers considerable power savings for a considerably longer lifetime than any traditional lights. In addition, the one advantages of LED lighting was added to the advocation of the incoming world's lower carbon economy . The Energy savings rate compared with similar CFL bulbs is 56%, whereas compared with Halogen bulbs is 88%. This means long term savings and extended savings for those prepared to invest in LED technology.industry .
the comparison between old type and new type LED TUBE :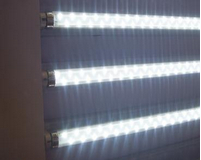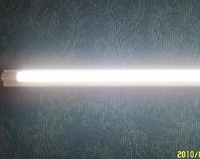 dazzling and glare NO dazzling ,more natural light